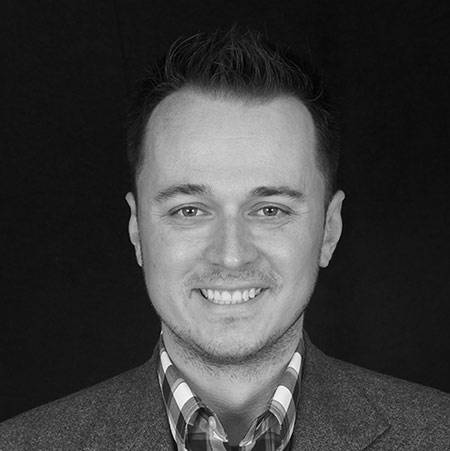 BIOGRAPHY
With an extensive background in 3d modeling, rendering, and work-flow optimization, Matt focuses on streamlining the design process. In his first year at Orange Coast College, he earned the opportunity to develop a prototype 3d modeling class for new students and architects updating their skills. The class rapidly became part of the offered curriculum, which he taught for 8 years (2008-2016). After completing his Associate of Science in Architecture at Orange Coast College, he transferred to Woodbury University San Diego, where he earned his Bachelor of Architecture in 2012. In the time since graduation, he has worked for some of the larger architectural firms in the Orange County area and is currently working toward licensure.
Matt constantly pursues ways of leveraging his understanding of technology to integrate the design process with building systems to unify software plug-ins management, create smooth and predictable work-flows, and even utilize virtual reality to help make critical design decisions early.
Professional Biographical Summary
Matt has had an interest in both aesthetics and the sciences from very early on in his education. After completing high school, he began attending a wide variety of classes, from music theory to microbiology. Like many people right out of high school, he tried a few different career paths that all made their influence known in his final decision. After a short foray into the music industry as a recording tech and studio musician, he changed his major to criminology and forensics. There, he learned analytical thought processes and the ability to "step outside" of a topic to look at it from a neutral position.
After some time in forensics, Matt sought to find a career in which he could walk the line between the creativity of music and the rigidly defined processes/procedures of the forensic fields. Looking back to early experiences watching family make decisions about their homes and work places, he realized that architecture was exactly the career path he was looking for.
Matt's enthusiasm for learning and understanding the "how and why" of architecture showed very early on in his architectural graduate studies. In his first year at Orange Coast College, he was approached by the director of the program to develop/teach a prototype course in 3d modeling for new architecture students and industry professionals looking to hone their skills.
After teaching for a year, the class was accepted as part of the curriculum, where it remains today. Matt taught regularly for 8 years and remains an active participant in the programs Technical Advisory Board.
His entry into the architecture field as a professional began immediately upon receiving his bachelor or architecture from Woodbury University.  In fact, he was offered a position with Bassenian/Lagoni Architects after his very first interview/presentation.  He gained experience working with licensed architects aiding in the design of multiple international projects in China, Dubai, and Moscow, as well as creating deliverable packages for many domestic projects.  While employed with Robert Hidey Architects, he gained first hand experience configuring details and creating construction documents, helping to gain a better understanding of the driving logic behind how buildings are constructed. Whilst working for Architects Orange, his primary focus was to devise a system of standards to govern usage of 3d modeling and to train employees several software systems to stream line the design process.
With his eyes on licensure next, Matt has joined IDEArc to focus on using all his skills and experiences to better their IDEArc team while adding even more skills to become a more well-balanced architect.
Professional Resume
EXPERIENCE
---
IDEArc Architecture + Planning
Irvine, CA
August 2018 – Present
3D/CAD Designer + Project Manager
Joined IDEArc with a focus on design and streamlining its processes to set up pathways for future growth. Primary duties include design development, standards development and integration, company documentation and training, 3d modeling and presentation graphics.
Architects Orange
February 2017-August 2018
Designer
Coordinated employee training sessions for both 3d modeling standards and Virtual Reality implementation and use. Worked with several teams to bring projects into 3d formats used for critical feedback in the decision-making process.
Robert Hidey Architects
July 2016 – February 2017
Associate
Worked under the supervision of registered Architects on single family and multifamily residential projects to finalize construction details and drawings.
Bassenian | Lagoni Architects
July 2007 – July 2016
Assistant Designer/Digital Process Coordinator
Primary duties included drafting, 3d modeling, and graphic design for international and domestic design projects ranging from single and multifamily residential, country clubs, and hospitality projects.
Orange Coast College
June 2008 – June 2016
Instructor
Developed and implemented 3d modeling curriculum for new architecture students and architects continuing their education, with a heavy focus on design development and project visualization based on modules of SketchUp, Adobe Creative Suite, AutoCAD, and Maxwell Render.
EDUCATION
---
Woodbury University, San Diego
Bachelor of Architecture, 2012
Orange Coast College
Associate of Science, 2008
LICENSURE
---
Coming soon
OUR COMMITMENT
Whatever our role in the project, we are committed to considering our tasks as they relate to the entire enterprise and focus our efforts to always move the project toward a successful conclusion.